Coverage
At this time this service is not available in the following areas: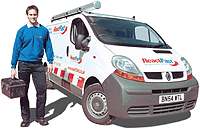 AB (Aberdeen and surrounding)
BT (Belfast)
GY (Guernsey)
HS (Outer Hebrides)
IV (Inverness and surroundings)
JS (Jersey)
IM (Isle of Man)
KW (Wick and surroundings)
PO31-41 (Isle of Wight)
How does it work?
Our installation is a fixed fee, no hassle installation service for our bathroom and kitchen taps.
All installations are carried out by ReactFast Ltd., whose engineers are fully trained to ensure you receive the best possible standard of installation and level of customer service.
If you choose to have your taps installed, this is how it works:
The installation team will contact you to introduce themselves, and ask a few questions to ensure your installation is quick and straightforward, with minimum disruption to your household.
When your goods are delivered, you must check that they are correct, complete, and in good condition.
Your delivery will include an installation voucher and contact details for the installation team. You should now phone the installation team to arrange a convenient date and time for your installation. ReactFast will aim to install within 5 days.
An engineer will carry out the installation as arranged. Our engineers are happy to provide official identification on arrival. After installation, you will need to sign to show you are satisfied with the work done.
That's all there is to it.
About ReactFast
ReactFast is a highly respected national company offering nationwide installation and maintenance services, as well as an emergency call out service. ReactFast guarantee their installation work for 3 months, so in the unlikely even of problems with your installation, you can expect it to be resolved quickly.
ReactFast's engineers are fully qualified and insured, and pride themselves on their professionalism, reliability and integrity.
Terms and Conditions
The service is subject to a pre-fit survey by the engineer. It is assumed that existing plumbing/infrastructure is present and in serviceable order. Where it is not, the customer is subject to additional but competitive charges for materials and labour essential to the installation. For example, this may apply where pipework needs installing or renewing.
If additional costs are identified during the pre-fit survey, these costs will be charged directly by ReactFast.
The installation voucher is valid for 90 days. Please make sure you arrange your installation well within this limit.
The installation service covers the fitting of 1 tap, or 1 pair of taps. This includes labour and any incidental materials needed. If you need additional taps installed, you must purchase additional installations.
The installation service covers bathroom taps (basin or bath taps) and kitchen taps (including filtered taps). Fitting of other types of tap (such as a boiling water tap) may incur an extra cost.
Where the installation service is for a like for like replacement, the engineer will not be able to replace standard taps with wall mounted taps. If the engineer is able to fit wall mounted taps, this will not include any making good.
There should be appropriate water supply(s) within 1 meter of the tap position.
There must not be any obstructions that could hinder installation.
Installation is available Mon-Sun between the hours of 9am and 4pm. Additional costs may apply on Saturdays & Sundays. Installation is not available on bank holidays.
In the event that an installer is not available, a full refund will be provided.
Some of your detail will be passed to ReactFast Ltd to facilitate installation. As per our privacy policy, only those details needed to provide installation services will be supplied.
Guarantee
ReactFast guarantee the work for 3 months (this guarentee does not affect your statutory rights), and aim to correct any problems quickly.
Liability
Liability for the work carried out rests with ReactFast Ltd. Taps4Less.com is not to be held liable for work carried out by ReactFast engineers.